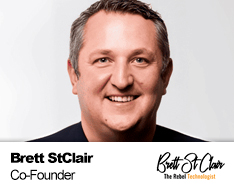 Brett StClair /
Brett StClair is not just a motivational speaker; he's the visionary disruptor, the Google-bred trailblazer, and the tech rebel who has honed his craft in the digital trenches. With Brett StClair, you're not just booking a speaker; you're securing an experience that will reshape the way your organization thinks, operates, and thrives in the fast-paced tech landscape.
When you book Brett StClair for your event, you tap into his exceptional ability to shed legacy constraints and spearhead the AI Revolution. His journey from Google, where he accelerated global markets, to Barclays, where he birthed groundbreaking tech, and ultimately to co-founding Teraflow.ai, demonstrates his relentless pursuit of cutting-edge solutions.
Imagine your team gaining firsthand knowledge from someone who rebuilt and perfected agile approaches while defining a clear sense of purpose. Brett StClair's award-winning technologies and his mission to discover the Rebel Technologist within are not just stories; they are blueprints for success in today's digital age.
Your organization can benefit from Brett's expertise, as he shares game-changing, hands-on experiences that empower Rebels and transform businesses. By booking Brett StClair, you're not just securing a keynote; you're investing in a catalyst for change, someone who will help your organization move from legacy systems and thinking to lead the charge in the AI Revolution.
So, when you think about booking a keynote speaker who can drive innovation, redefine agility, and inspire your team to embrace the future, think Brett StClair. He doesn't just talk about change; he embodies it. Book Brett StClair for your event and be at the forefront of the transformation your organization deserves.