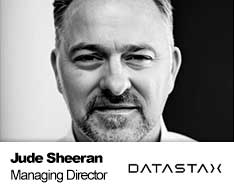 Jude Sheeran
, Managing Director – EMEA,
DataStax
Title-  Unlock the Potential of Gen AI:  A Path For Enterprises 
Synopsis- Generative AI is not hype! But there are no clear winners yet. LLM (Large Language Models)  on their own are not enough – you need to bring your proprietary data to the model to create new customer experiences. You are at an advantage over startups because you have the data – so the time to act is now!  But key to this is learning how to leverage your real-time and unstructured data.
In this session we will discuss how enterprises can leverage real-time data to build Generative AI experiences.  We'll outline key requirements, considerations, and success patterns in using emerging techniques such as RAG (retrieval augmented generation) to deploy Gen AI successfully in a production context to drive business value.