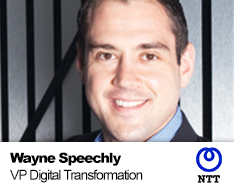 Wayne Speechly, previously Group Principal Director of Dimension Data's Digital Advisory, is now Group Vice President of newly formed NTT's Digital Transformation practice. Established to help clients with their digital and organizational transformation opportunities and goals. Wayne helps organizations to face the challenges involved with thinking, behaving and realizing value in this ever-evolving digital age.
Wayne leads a team of exceptional strategists, specialists, and execution accelerators who are experts in customer and employee-centric digital transformation, helping organizations act innovatively by leveraging the right technology capabilities.
Wayne joined Dimension Data in 2008, and has held roles as Group Consulting Practice Director, Executive for Cloud at Internet Solutions and a board member of ContinuitySA.
Wayne completed his MBA with his dissertation on intrapreneurship, has studied law, and developed a number of digital and organizational transformation skills.
Talk to Wayne about digital transformation strategic execution, organizational transformation led by customer and employee experience reimagination, data and analytics, AI/ML and Internet of Things.